Rock-it Radio Contest and Promotion and Give Away Page.

---
---



Hello and Welcome to the Promotions, Giveaways and Contest page of Rock-it Radio. We continuously have some sort of promotion or giveaway going on here at the station. So, we thought we would create this webpage so you can easily keep track of all of our promotions and deals. Just our way of saying thanks to the listeners of the oldest 50s and early 60s oldies radio station on the internet since 1995 - Rock-it Radio.
For some of these giveaways you will have to go to various pages on our website so we have added links at the bottom of this page.



---



FLASH CONTESTS !!!! THESE CAN HAPPEN AT A MOMENT'S NOTICE





We will post in our twitter account and in our Rock-it Radio Facebook page varous giveaways thruout the week. These usually require a quick response. Instructions will be given on the Facebook page. And we will advise the winners to great Rock-it Radio prizes. To respond to a Rock-it Flash Contest you will have to e mail us at the station here at: Click here to mail to Rock-it Radio at Rockitradio@netzero.net


---
OFFER #1 - Rock-it Radio Listener Club Members Giveaway every newsletter!

New Station Prize Giveaway starting in our next newsletter? Starting now Rock-it Radio will be giving away Classic Rock and Roll Radio Shows from the Launching Pad to members of our Listeners Club. We will draw 3 names in every newsletter of winners that are members. The winner will receive the classic rock radio show of their choice from the Rock-it Radio Launching Pad. So, keep a look out if you are a member for your name in the next newsletter. If you are not a member yet you can join by clicking to: Link to Sign up for listeners club
And you will receive our newsletter approx. every 10 days, filled with our playlist and other news.

The winning names will get to choose either a Rock-it Radio show on CD or there choice of any show listed in our Launching Pad site at: http://www.rockitradio.net/store.html
Just our way of saying thanks for liking Rock-it Radio!

---

Monthly Launching Pad Giveaway

Every time you buy something in our Rock-it Radio Launching Pad. rockitradio.net/store.html or a Rock-it Radio T Shirt or from our Ebay store at http://stores.ebay.com/Rockit-Radio your name is put into a drawing held once a month. 1 E mail address is picked for a mega 10 CD give away and 3 other e mail addresses are drawn that will win one CD from either a recent Rock-it Radio Show or a Classic vintage rock radio show from the Launching Pad. Their Choice.
The winners will be announced in the Rock-it Radio Newsletter and will run that announcement all month long.
Keep checking back frequently for our giveaways.
---
LINKS



Return back to the Rock-it Radio Main Webpage.

Rock-it Radio Launching Pad Store.

Rock-it Radio Shows - Order site.

Facebook page for the Launching Pad.

Facebook fan page for Rock-it Radio.

Rock-it Radio Twitter Page
>
Rock-it Radio Newsletter webpage.




Follow our latest notifications on Twitter by Clicking the banner above

---
---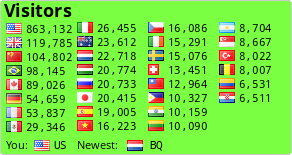 New Unique Listener's that have discovered Rock-it Radio Since June 1, 2010
---