ORDERING ROCK-IT RADIO SHOWS

---

Is there a particular Rock-it Radio Program that you would like to have on Compact Disk?
All Compact Discs are studio recordings free of static and mastered onto CD here at the studios on Rock-it Radio.
All proceeds received in the purchase of these shows helps us stay on the air here at Rock-it Radio.
Cost: The Cost of each show is $9.50 U.S. per show. Plus a flat rate of $1.50 shipping and handling per order. (i.e. if you order one or several shows the shipping rate is the same -- $1.50 U.S.)
Time to process your order: All shipments are done usually within 24 hours of when Payment is received.

How to Order:

Domestic orders within the United States -- We have 2 basic ways of receiving orders for Rock-it Radio shows. One of course is thru Mail, where you can send either a check or money order made out to Rock-it Radio (U.S. Citizens only as we are unable to cash foreign checks).
NOTE: Overseas orders outside the U.S. please e mail us at: rockitradio@netzero.net for us to send you a non obligatory invoice.

Our mailing address is:
Rock-it Radio
3206 South Stateline Road
Post Falls, Idaho USA 83854

Note: Please include the Rock-it Radio show number you would like along with payment.
Along with payment please submit of course the address where you would like to receive your shows and the Rock-it Radio Show number(s) you would like to have.

Foreign Orders outside of the United States -- Due to the high cost of cashing foreign checks the only way to really order Rock-it Radio programs is thru Paypal. If you are not a member of Paypal we have placed a link below on how to become a member. All orders outside the United States are shipped via Airmail and pay the same shipping cost of $2.00 shipping flat rate per order and $9.50 for each Rock-it Radio show.

Both U.S. and orders from outside the United States can order thru Paypal. If you have a Paypal account simply e mail us at the link below and we will send you a Paypal invoice of the shows you would like to have. This is actually the quickest way to receive your Rock-it Radio programs as payment received is almost immediate. And we ship within 24 hours of receiving payment.

---
(2nd Way of ordering shows ---> )If you would like us to send you a invoice (non obligatory) of the shows you want -- or have any questions on ordering Rock-it Radio shows. Simply e mail us by clicking below, and let us know the Rock-it Radio show #'s you would like to have. We will reply to you with a non obligatory invoice and payment information.
Click here to send Rock-it Radio an e mail.
Once you receive your invoice which is good for payments worldwide via VISA or Master Card and our shows are 100% Money Back Guaranteed. If not completely satisfied we will gladly replace, or refund, buyers choice. We usually send the invoice out within 24 hours of receiving the request for show(s).

---

To help you know more of the show you are buying you can view the playlist of the Rock-it Radio shows you may wish to have. We have just added a link to our blog that lists our old newsletters and playlists below. This way it can help you search and find the Rock-it Radio show # you may wish to have.
Click here to view the Rock-it Radio Blog that lists the playlists of the Rock-it Radio Shows from archived newsletters.


---

NEW!!!!! Rock-it Radio shows are now available on Flashdrive in MP3 Format. In 50 Show increments at a significant Savings.
Click here to learn more!

---

Also, to receive our most updated playlists and receive our free Rock-it Radio Newsletter that goes out every Friday in your E mail box. Come join the Rock-it Radio Listener's Club. Just click to the banner below.

---
Return to the Rock-it Radio main website.
Purchase items online and securely in over 50 Countries thru Paypal -- Easy to join -- Easy to use!

---
Any further questions you may have on ordering please let us know at: Rockitradio@netzero.net

---
---
---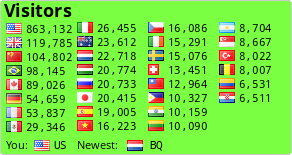 ---