Click the banner above and come join the Rock-it Listeners Club! Get our free weekly newsletter.

As of 17 June, 2012 we currently have 62,112 members in our listeners club.
You Get Notified when new shows are on - Including the playlists - along with Cool Oldies news and Links as well.
Just click the banner above and become a member of the Rock-it Radio Listeners club


---
---
About us: Rock-it Radio is an established Internet Radio Station. We have been on the air since 1995. And a pioneer in Webradio, beginning in 1997. We have a format that will target your advertising to listeners that want your product. Rock-it Radio is a 50s and Early 60s only Music Station - focusing mainly on Doo Wop Group Harmony and Rockabilly and Rock and Roll music of the first decade of Rock and Roll.

If you sell vintage clothing, A rockabilly band with a new release, A retailer of 50s and 60s Rock and Roll or Promoter or anywhere in this area, Let Rock-it Radio advertise for you affordably and help you target your audience. Our Gigs are surprisingly affordable at $5 U.S. per gig.
If you want to target your advertising dollars to this audience worldwide we suggest you advertise with us. If you have your business on the internet, your advertising dollar will be going to those people already on the internet and purchase from the internet!

One Ad will reach up to 50,000 + people to our fan base on Rock-it Radio - Rock-it Radio subscribers Worldwide. Plus, be placed in the Rock-it Radio Online Newsletter, The Rock-it Radio Blog -- Being established for so many years we have a large base of worldwide listeners!!! Check out some of our accounts. These numbers are growing and was taken on 16 June, 2012.

Rock-it Radio Twitter Account with over 60,000 followers.
Rock-it Radio Facebook Fansite -- with over 52,000 fans
Rock-it Radio newsletter -- Circulation over 61,000 in our Listener's Club
---


How to get in on the advertisement deal for only $5! Well our advertising is done and listed at: FIVERR.COM and you will have to register on that site which is just a couple of minutes but once you have an account you will see dozens of opportunities to promote your gig and website.
To Advertise on Rock-it Radio and view everything we currently have to offer for $5.00 -- Check out our Fiverr webpage at:

ROCK-IT RADIO FIVERR SITE


---
If you have any questions please feel free to e mail me at: dingo@rockitradio.net
---
NEW!!
For Convenience Rock-it Radio has also listed there top promotional deals for your site now on Ebay
Click here for the Rock-it Radio Ebay Store Listings of our Promotional deals



Other Links of Interest



Return to the Rock-it Radio Main Webpage.

The Rock-it Radio Launching Pad Store - 100s of Vintage Rock and Roll Radio shows for sale.

The Rock-it Radio Programs Webpage - Check out the currently shows we have archived online.


---
| | | |
| --- | --- | --- |
| | Rock-it Radio vintage radio broadcasts for sale! | |
---
---



Follow our latest notifications on Twitter by Clicking the banner above

---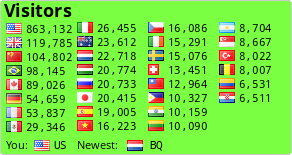 New Unique Listener's that have discovered Rock-it Radio Since June 1, 2010
---