How to tune into Rock-it Radio


Plus other Radio Stations over the Internet.




---
First Let us check and make sure you have the right software already installed in your computer to see if you have what is needed to tune into Rock-it Radio. Just click to the link below, and a screen should pop up and within 10 seconds our programming should begin.

Click here to listen to Rock-it Radio online
Nothing happened now what do I need to add a program to my computer?? If you have speakers for your computer you probably do! It is not hard and only will take a few minutes and open a whole new world of radio for you for free from around the World. (Not to mention Rock-it Radio :) ) Below is a player you can easily download to your computer right now.
NOTE: (Update) As of 21 February, 2009 to improve overall sound quality and to avoid further interference from local stations over our internet service - Rock-it Radio has switched over to MP3 format. We have recently received comments how the shows have been slow in loading. One solution we have found for a lot of listener's is by using the latest Windows Media Player. And it's free. Simply click to the link below.


---
There are literally 1000's of Radio Stations today broadcasting over the internet. And you can easily tune into and listen around the world. This webpage will hopefully get you started on a wonderful journey of the new growing media of Internet Radio -- though of course we do hope that you do come back and tune into Rock-it Radio often :). You may need to update your computer a bit to get started listening to internet radio.
Your computer is going to need a few items... but let's first see if you are already hooked up and ready to go?
Click to the Blue Box below and see if you are able to tune into Rock-it Radio without getting an error message.
Play Rock-It Radio Oldies Music while visiting this website.
Now when you press that banner above a small media window should pop onto your monitor and start connecting to Rock-it Radio. If it didn't ... well we need to add a few things. And let's get started.
---
It didn't work... what should I do?

There are 3 main ingredients that you will need to tune in.

1. A Sound Card -- Most Modern Computers today already have them built in... If you can hear pings and various sounds from your computer... you already have one!

2. Speakers -- Just like in Broadcast Radio -- A set of Speakers is mandatory for the computer. You can purchase a set fairly inexpensively at any computer supply store. And in most cases there is a hook up for them in the back of your computer. (Note: Also, if you have the hook up for speakers in the back of your computer... then you already have the Sound Card. (See #1).

3. The Software program that allows you to play internet Radio.
-- Today there are 2 main types of programs -- Real Media and Windows Media. Rock-it Radio uses Real Media so we will focus on that.
The Software program is simply a translator -- it translates the computer language back into sound and voice over your computer. It's easy and requires little time. Matter of fact you can download the Real Media Software program. For information on the software click the link below.

To Tune into Rock-it Radio you need Real Player software -- Click here then press the "free download button"
Once you have all 3 of these completed ... you are ready to tune into Rock-it Radio. The Online Radio Station dedicated to keeping the Rock and Roll of the 50's and early 60's alive.
---
Since I began this webpage - The technology keeps on rolling in -- And now adding here how to listen to us on your Iphone, or Ipad or Android Smart Phone devices.
Now if you have a smart phone you take Rock-it Radio with you anywhere and here are 3 easy steps to do so.
1. Go to your app store and type in and purchase the 'Tune in Radio' Application. It's only a couple of dollars and well worth it - it opens up the world of radio to several 1000 stations worldwide.
2. With the Tune in application in your smart phone -- type in 'rockitradio' in the search area.
3. Once you find us - Put us in the favorites of your Tune in App. - And come to us as often as you can :)
Note: Tune in Radio is also online and
Click here to check out there site.
---
As you may have discovered Rock-it Radio has a new show on just about every day! Below is a link to our Archives page. Just click to the title of the show you want to listen to and enjoy!
Click here for the Rock-it Radio Program page. - Listing the last 25 shows of Rock-it Radio.
---
As we also mentioned on the top of this website there are well over 50,000 Radio Stations at your fingertips now online and you are able to tune in. Of course we don't have the resources to list them all here. But we have developed a webpage listing websites dedicated to listing these stations. And we have placed the link below.
Click here for the Rock-it Radio Directory website.
---
---
Taking Internet Radio and listening on a Regular FM Receiver



One problem with Internet Radio is that you are limited to being at the computer to listen to some of your favorite online internet stations. Hopefully, Rock-it Radio is one of them. :) Well recently some nice electronic products have come out that takes the audio signal of your computer (internet radio - MP3's - etc.) and with a miniture FM Transmitter rebroadcasts that audio on a FM Frequency that you can then tune into that audio onto any FM Radio in your home.
Here are a couple of products that does such a thing that you might be interested in.




The C. Crane Digital FM Transmitter - Click to the banner above for more information. Sometimes Range to get the entire house covered with the audio from your computer. But we have added some steps that might be helpful in greatly improving the product of this item.

HOW TO GET GREATER RANGE ON C.CRANE FM TRANSMITTER
1) Open up the box, -- by removing 3 screws (one screw is in battery compartment and the other 2 are under those circular rubber feet which are adhesive and once removed can be refitted afterwards)

2) Locate the variable resistor marked VR2 on the circuit board. (For those non-technical this is like a volume control that is operated by inserting a tiny screwdriver and turning fully clockwise). Turn VR2 to the fully clockwise position.

Viola! The power output will increase by about five fold.

If you want to go even further, then
a) sit it on a grounded metallic surface, such as a metal tray to form a ground plane.
b) increase the length of the antennae to about 75 cm (29 inches) which is the correct quarter wavelength at these frequencies.


---




The Griffin FM Transmitter for PC and Mac.


The Griffin FM Transmitter is another product that will play your favorite internet radio station (i.e. Rock-it Radio) and rebroadcast to a nearby FM Radio. Easy to hook up right thru your computer's usb port. Click to the banner above for more information.

---
And of course you are always invited to join the Rock-it Radio Listener's Club and receive our weekly newsletter online and our playlists of our shows. Here is a link below to join.

---
Rock-it Store - 50's and 60's Rock and Roll Radio Broadcasts for sale!
---

CLICK HERE TO RETURN TO THE ROCK-IT RADIO MAIN PAGE.
---
Click here to check out and Join the new Rock-it Radio Facebook Fansite.
---
---
---
| | | |
| --- | --- | --- |
| | Rock-it Radio vintage radio broadcasts for sale! | |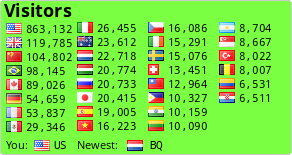 ---
---
---




Follow our latest notifications on Twitter by Clicking the banner above

---