---
Rock-it Radio 99.1 FM - Post Falls, Idaho


Great Rockin Oldies Music from the First Decade of



ROCK AND ROLL!!!



---




JOIN ! JOIN ! FREE ! FREE ! - ROCK-IT RADIO STUDIOS IS MOVING TO IDAHO - COME JOIN THE LISTENER'S CLUB AND KEEP IN THE KNOW!


Click the banner above and come join the Rock-it Listeners Club! Get our free weekly newsletter.

As of 30 August, 2019 we currently have 96,307 members in our listeners club.
You Get Notified when new shows are on - Including the playlists - along with Cool Oldies news and Links as well.
Just click the banner above and become a member of the Rock-it Radio Listeners club


---
About Rock-it Radio: Rock-it Radio started back in 1995 and one of the first pioneer internet radio stations beginning in 1997. Our format is of 50s and early 60s Rock and Roll - Including the sub genres of Rockabilly, Doo Wop along with early Rhythm and Blues. Many of our DJ's are actually from the era and spun the records first hand back in the 50s and 60s. We have over 20 DJ's programming now for Rock-it Radio. And each show is archived for on demand playing for 2 to 3 weeks.
Click here for the Rock-it Radio Program webpage.
---
Besides playing music from the first decade of Rock and Roll. Our DJ's have a wealth of knowledge of the music industry and the music of the 50s and 60s.
We also produce a weekly free newsletter describing each show and it's playlist. It's free and when you join the Rock-it Radio Listener's Club you will receive it.
We also offer several relevant links from Doo Wop and Rockabilly links to tuning into Internet Radio. Just check the menu on the left of this webpage. We strive to have Rock-it Radio give the most of any of the roots Rock and Roll internet radio stations out there today.

---
Click here for the 30 latest Hottest Shows on our Rock-it Radio on demand program webpage.

Click for weather forecast
Click Above for latest Weather and possible Warnings for Post Falls, Idaho.



---
Radio online
---

Drop us an e mail and let us know how we are doing here at Rock-it Radio!
---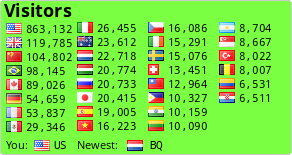 New Unique Listener's that have discovered Rock-it Radio Since June 1, 2010
---

Other Link Pages of Rock-it Radio.