---


TRIAL RUN FOR ROCK-IT RADIO LISTENER'S ONLY
VINTAGE BROADCASTS ON FLASHDRIVE

It's hard to believe but we realize that perhaps our declining sales is due to Compact Discs are a aging medium. And Flashdrives And digital is where it's at. So, I am going to make this offer just on a trial basis for the remainder of 2017. If you would prefer to have Rock-it Radio shows and vintage radio shows that we offer for sale on Flashdrive in mp3 format rather then on CD we can provide that service here at Rock-it Radio. Here it is how it works:

1. E mail me at rockitradio@netzero.net and let me know what shows you would like to have on Flashdrive. Let's make it a minimum of 3 broadcasts. Your choice of Rock-it Radio shows .... or Vintage Radio Shows from the 50s through 70s that we offer at: Rock-it Radio Launching pad. Or mix them up.

2. The Cost: Flashdrive will cost $5.00 and each show that you wish to have will cost $5.00 - nearly 50% CHEAPER then on CD.

3. I will send you back a invoice within a couple of days, It will be sent via paypal and it is not obligatory. If you change your mind just don't pay. But it is easy to pay with any major credit card.

4. Please allow up to 7 days for me to fill the order. Once payment is sent. In case I get swamped with this offer. Probably sooner. I have to redigitalize all sold shows into MP3 and that takes a little bit of time. All orders will have $3.00 postage a slight increase but that is due to it is shipped as a package and not envelope since it will be over a 1/4" thick.

For example you order: 3 of our Alan Freed Radio shows. And a Real Don Steele show. A total of 4 shows - That would normally be a cost of $40.00 on CD. All together on one flashdrive so the invoice would look like below:
- Flashdrive $5.00
- Four Shows on Flashdrive @ $5.00 each - $20.00
- shipping $3.00
Total: $28.00

---

Of course if you order more shows on the flashdrive you would continue saving as you are paying the $5.00 per show rather then $9.50.

And of course we will be adding the monthly giveaway broadcast on the flashdrive also.

So for a invoice again just e mail me your wants on your flashdrive for shows on mp3: Click here to Mail to Rock-it Radio with your request for a invoice and which shows.



---

Click here to return and shop at the Rock-it Radio Store.

Click here to return to The Rock-it Radio Main Website.

Click here to join the Free Rock-it Radio Listener's club - Get our Free Newsletter and offers in your mail about 2 x a month.


---
---
---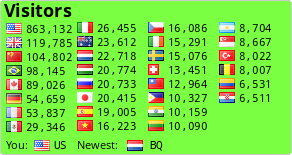 New Unique Listener's that have discovered Rock-it Radio Since June 1, 2010
---