Getting Airplay on Rock-it Radio Online and Rock-it 99.1 FM
Do you have a Rockabilly Band that plays Roots style Rockabilly. Or a Band that has a 1950's Style Rock and Roll ?? Then we would like to give you some airplay here at Rock-it Radio Online & our FM affiliate Rock-it Radio 99.1 FM here in Post Falls, Idaho.

Airplay takes a couple of week's from when we receive your band's press kit or recorded music. But we will notify you as soon as it is being played and on which show it is featured.

Bands should also let us know where there music can be purchased from ?? (i.e. there own personal website? Amazon.com? E bay? etc.) This way when we do feature the bands music -- we will be able to plug it for you as well.

If your band has a website we would greatly appreciate a link to that site of course. It not only shows that you have been played on Rock-it Radio but might help out other bands to discover us and increase listenership for all the bands. We invite you to check out our 'Link to us' page here on Rock-it Radio.

Click here for the Rock-it Radio Links Page.


Of course in return we will put your bands website in either our Rockabilly Links page or our Doo Wop & 50's Page. Whichever would be more appropriate.

Where do I send Our CD too?: Once you have the Recordings (CD, Cassette, and or Vinyl) of your music you can send it to the Station Owner, Bennie Dingo. Please make sure that it includes a brief Biography on the musician or Band as well if possible (i.e. where has the band played?, how long have they been together?, who are there influences?, where are they from? etc.) as that always helps as well for introducing your bands music over the air.



Send your Press kit / Music to:

---

Rock-it Radio
3206 S. Stateline Rd.
Post Falls, Idaho 83854
USA

---


We will E mail you when we have received and reviewed your music and will let you know on what show it will be aired on both Rock-it 99.1 FM & Rock-it Radio Online. The show online will also be archived and available to be heard worldwide from 7 to 14 days depending on how many shows are pending for airplay. But that way when you know in advance, you will be able to inform friends and family as well to download and listen to your music.

If you have any questions please do not hesitate to E Mail us:

Click here to send E Mail to Rock-it Radio.


---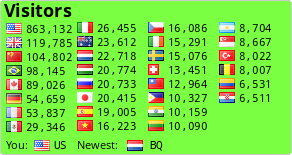 New Unique Listener's that have discovered Rock-it Radio Since June 1, 2010
---